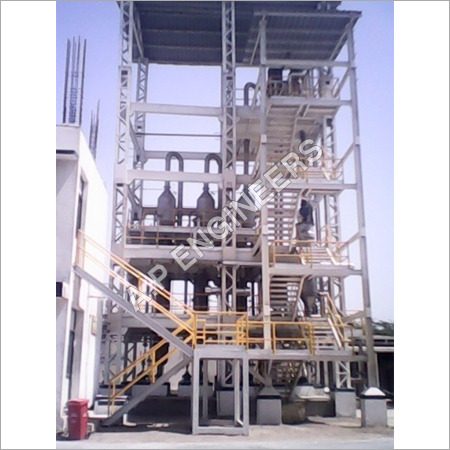 Product Description
We are satisfying various industrial requirements of our precious clients by offering Forced Circulation Evaporators. These evaporators are highly cherished by clients for their optimum performance and durability. Before introducing these evaporators in market, our quality analysts stringently check these on strength and quality parameters. These Forced Circulation Evaporators are widely used for salt separation, scaling water and high fouling by pusher centrifuge & crystallizer. Offered evaporators can be availed from us in different technical specifications as per the clients' variegated demands.
Features:
Large concentration ratio
Less maintenance
Reliable performance
Forced Circulation Evaporators
In Forced Circulation Evaporators water is distributed in tubes like a fine film layer on surface of tubes. Due to less wetting in surface and scaling, fouling materials will form a layer of insoluble scale that reduce its evaporation capacity. During evaporation, scaling materials such as calcium, magnesium & silica salts are forms quick and insoluble layer of scales. This will reduce heat transfer and affect system performance. For that, we recommended forced circulation system. In that design, feed is flow inside of tube with tube filled condition and with high velocity and pressure. Due to velocity and pressure, boiling on tube surface is reduced. Pressure inside of system is maintained to avoid boiling inside of tube by vapour head pressure. Further velocity in forced circulation keeps surface on wiping and cleaning. This will not allow developing scales on surface by force of feed water.

Feed vapour is separated in vapour separator. Further, with forced circulation system, we can run system with semi slurry conditions with very high concentrations There is no boiling on calendria and heating only happened in calendria. Boiling happened in vapour separator and concentration without scaling is achieved. Further high concentration water and semi slurry water is processed. This will help to separate salt by crystallizer, pusher centrifuge or dryer. By forced circulation system, we can achieve zero discharge system effectively. We installed many forced circulation system up to 80kld capacity. This system is used to high fouling, scaling water, salt separation by crystallizer and pusher centrifuge.

Contact Us
Plot No C-2, Sipcot Industrial, Growth Centre, Perundurai, Erode, Tamil Nadu, 638052, India
Phone :+918061856826