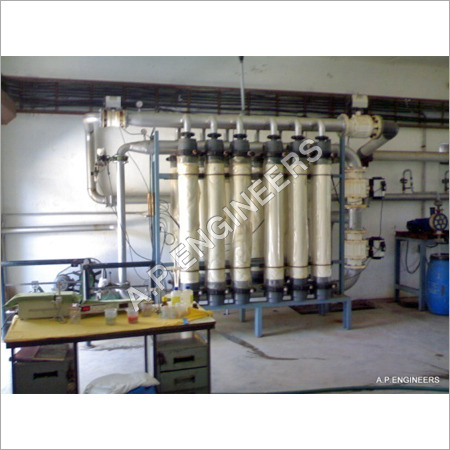 Product Description
In order to meet the exact demands of our esteemed clients, we are dedicated towards manufacturing exporting and supplying a broad range of Reverse Osmosis Plant. This plant is precisely manufactured by making use of high grade materials and components under the guidance of our skilled professionals. Offered Reverse Osmosis Plant is broadly used for the filtration of heavy element like silica, iron and heavy organic loads.
Features:
Optimum performance
Easy to install
User friendly
Ultrafiltration & Reverse Osmosis Plant
We are the prominent manufacturer and supplier of Ultrafiltration & Reverse Osmosis Plant. In order to fabricate this plant, we use the finest quality raw material that is quality tested. The offered Ultrafiltration & Reverse Osmosis Plant are designed keeping in mind the international quality standards. Further, it is widely used to filter heavy element, such as iron silica and heavy organic loads that caters water that has less than 0. 5 ntu turbidity. This is available with automatic backwash systems that ensure frequent cleaning of the system. owing to their quality features, such as robust construction, corrosion resistance, durable finish standard and high tensile strength, our offered plant in highly demanded in the market.

Specifications:

Used for fine treatment of treated effluent to make it suitable for RO plant.
UF plant from 20 kld to 4000 kld plant for RO processing application.
UF with plc based automatic backwash system to run plant automatically.
Ultra filtration have very fine pores of 0. 01 micron to 0. 005micron.
It prevents heavy metal fouling and organic fouling.
Reverse osmosis plant are salt rejection unit, that reject 95% of salt in water with 99% rejection of divalent ions.
Composite poly amide membrane has 0. 001 micron size and rejects salt as a result of osmosis pressure.
Reverse osmosis plant is used for recovery of water.
In first stage 70% of water is recovered and in remaining stages up to 92% of water is recovered.
Final reject have high tds water and evaporated in evaporator.
20kld to 4000kld plant with micro processor/ plc based control system.
It trips/ shuts down against low pressure, high pressure, high conductivity/orp, etc.
Advantages of UF & RO Plant:

PLC/ Micro processor controlled automatic system.
Safety against low pressure, high pressure, high conductivity/ orp, etc.
Well designed and fabricated.
Designed as per membrane guide line.
Regular services and training to operator.
Specifications:

Multi Grade Filter — Suspended Particle Removal
Bag Filter — Removal Of 40 Micron Particle
Ultra Filtration — Removal Of Fine Solids, Iron And Silica Etc
Ro 1St Stage — Recovery Of Water Using Bleakish Membrane
Ro 2Nd Stage — Recovery Of Water Using Sea Water Membrane
Nano Stage — Recovery Of Saline Water For Reuse
Contact Us
Plot No C-2, Sipcot Industrial, Growth Centre, Perundurai, Erode, Tamil Nadu, 638052, India
Phone :+918061856826